Your privacy is always one of our utmost concerns. All packages are shipped to you by the U.S. Postal Service, the only firm that fully insures both precious metals and rare coins. Sadly, thousands of Federal Express and UPS packages are left unattended on doorsteps every day... we just can't take that chance with highly valuable and irreplaceable rare coins or ancient coins that are often one-of-a-kind.
With the U.S. Postal Server, you must sign and personally except all packages. We've been in business since 1989, we can assure you this is the most effective and safest way to ship high-value packages with no problems and no hassles.
For your personal safety and security, we ship to you in "blind packaging" that says only "ARCI" and our return address on the outside of each package as you can see here.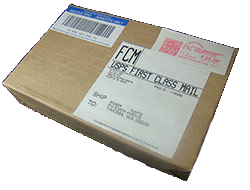 This method provides no indication whatsoever to your postman or neighbors that the contents may be rare or valuable. We have shipped over a half a billion dollars via the U.S. Postal Service and it works!
We ship only to USA addresses that receive mail from the U.S. Postal Service, the safest and most proven way to send insured packages of precious metals and rare coins.
$30-199 - add $10 U.S. Postal
$200 - $999 - add $25 U.S. Postal
$1,000 to $2,499 - add $40 U.S. Postal Registered, Insured