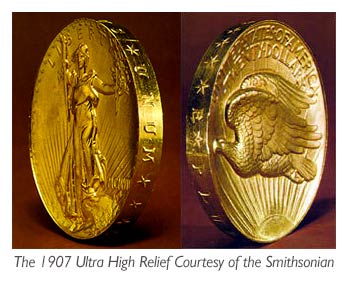 The twenty-dollar Saint-Gaudens double eagle gold coin, named after its designer and sculptor Augustus Saint-Gaudens, was produced by the US Mint from 1907 to 1933. President Theodore Roosevelt, who was a personal friend of St. Gaudens, asked Congress to hire the famed sculptor to redesign our coinage after decades of the Liberty Head series. Today, many believe that the St. Gaudens Double Eagle is one one of the most beautiful US coins ever produced and that is why they are highly sought-after.
A Miniature Work of Art
The original 1907 Saint-Gaudens design was an extremely high relief with detailed, raised features. Since the first day it was minted, it has been a classic miniature sculpture, truly a work of art you can hold in your hand. The obverse depicts Lady Liberty holding a torch and an olive branch, striding away from the capital. The reverse depicts a soaring bald eagle with a setting sun in the backround. Containing .9875 ounces of pure gold, these are perfect coins for those looking to invest in or collect Pre-1933 gold coins.